Borrow ebooks and audiobooks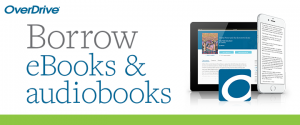 You can use your library card to borrow ebooks and audiobooks from the library — the collection includes fiction and nonfiction for all ages, and includes the latest bestsellers and old favorites. The books can be read or played on a wide variety of devices including smartphones, tablets, computers, and Kindle ebook readers and apps. This is a popular service so you may need to get on the waiting list for some titles, but titles return themselves when the loan period is up!
NOBLE OverDrive Collection — Visit our OverDrive site to get started!