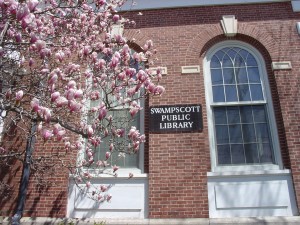 It's spring! Birds are singing, trees are blossoming and flowers are blooming. It's a good time to take the camera outside and take some pictures of your library in all its spring loveliness to put on your library's website or post on Flickr or Facebook.
Sometimes we're so focused on taking pictures inside the library, showing our services, displays and programs that we don't think about stepping outside to take pictures of the library building and grounds. But these outdoor shots show the library as members of our community experience the library every day as they walk by, drive by or come for a visit. And if your photographs showcase trees and plants, be sure to identify them in your title or description — consider it preventative reference!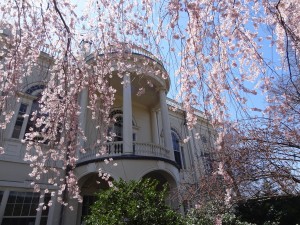 These seasonal pictures are also nice additions to Flickr groups. Many libraries add their pictures to library groups, like Libraries and Librarians. That's great, but pictures there will mostly be seen by other librarians. Consider also posting them in regional and local groups, like Boston and Surrounding 'Burbs or North Shore, Massachusetts. There are also groups for many individual cities and towns — do a Group Search to see what's out there. Adding your library photos to these groups helps them be seen by members of your own community — just another way to remind them we're here! And of course you'll want to feature these pictures on your library website, Facebook page, Pinterest boards, and anywhere else you can think of it.
Just get out there and take those pictures while the trees are still blooming!
[Sightly updated and reposted from 2009]