Today Google announced a new initiative to digitize backfiles of magazines and make them searchable through Google Books. They are featuring this on the main Google Books page with a rotating assortment of cover images, and you can limit a search to magazines on the Advanced Book Search page.

I couldn't figure out how to browse a list of available titles, but from reloading the Google Books page and doing, it looks like at this point it's a small and eclectic assortment of titles, including Popular Mechanics, Popular Science, Jet, Ebony, New York, Vegetarian Times, Baseball Digest, Prevention, Bulletin of the Atomic Scientists and CIO. Many of these are available over several decades — Popular Science goes back to 1872, and these aren't just articles, but the full page images. It looks like every word is indexed, including the small ads on the back pages. (That's how I know that in 1928, the American Specialty Company of Swampscott was selling something called The Serpent of India for $1.00, and a Money-Making Machine for $1.50.)
It doesn't look like this will be replacing our licensed databases anytime soon, but there's definitely some interesting content here, fun to browse and useful for various projects. Once you choose a title, you can browse it by decade and issue or search within the title.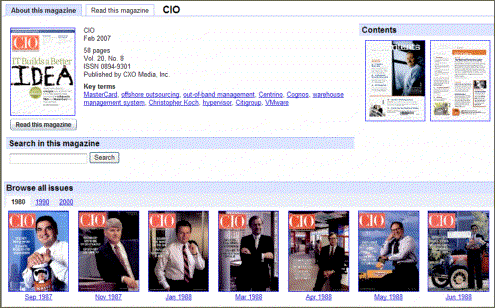 Definitely worth a look, and it will be interesting to watch how this develops!
Search and find magazines on Google Book Search — Announcement on Google Blog