Does your library use Flickr as a way to share their photographs with the public? If so, you probably link to your library's Flickr photostream and you may be using Flickr badges and individual photos on your blogs and website that link back to Flickr.
But how findable are your library pictures to someone searching on Flickr?
To test this, log out of Flickr, go to their main page (http://www.flickr.com) and try searching for your library. Try all the different ways people are likely to search. For example, if you're the Smithers Library in Goodtown, Massachusetts, try these searches, and see if you find your library's pictures on the first page of the search results :
smithers library goodtown
goodtown mass public library
library goodtown ma
smithers library massachusetts
For example, if you're the Melvil Dewey Library at Harvnell College, try these searches, and see if you find your library's pictures on the first page of the search results :
Academic libraries should do the same thing, trying different combinations of their library and school names.
harvnell college library
harvnell dewey library
melvil dewey library
MDL harvnell
If your photographs aren't coming to the top of the search results, check their titles, descriptions and tags. The more information that you add, the more findable your pictures will be. Titles, descriptions and tags are all searched, but tags are the most important.
Be sure that you are using the name of your library as a tag: "Goodtown Public Library". (Put quotes around a phrase so it gets indexed as a single tag.) Adding the library name as a tag is important even though your Flickr account is probably in the name of the library, because the user name is not included in the regular index and is not found except in a People search.
You should also add the name of your community or school, and consider redundant tagging for state names: Massachusetts, Mass and Ma, for example — people may use any of these forms as search terms. In addition to the tags that you add to every picture, be sure to add other relevant tags to individual pictures, for example : puppets, crafts, Halloween, as well as the names of speakers and performers.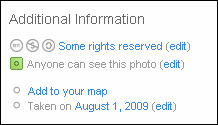 It's also a good idea to add your library photographs to the Flickr map. You'll find the Add to your map link on the right, in the Additional Information area. Just click on this, enter the address to find the location where the photograph was taken, and save the location.
Titles, descriptions, tags, map — these are the keys to making your pictures findable on Flickr. If you want to improve yours, you don't need to edit them one at a time. Go to Organizr, select a batch of photos (or even all of them) and you can add tags to the group and add them all to the map at once.
It's definitely worth making the effort to make sure your photographs are easy to find on Flick. After all, helping people find stuff is what we do best!