When you post a link on Facebook, whether it's on your own profile or on your library's page, Facebook takes the title and a snippet of text to display, which looks like this: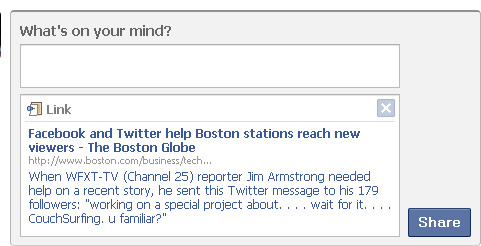 In most cases, what it takes from the page is just fine, and you don't want to edit it. And probably shouldn't, since this is understood to be their title and description, not your own comments. (Those can be placed in "What's on your mind?")
But sometimes what appears here is confusing, wrong, or unhelpful, and you want to edit them. It doesn't look like these are editable, but they are — just click on either the title or the description, and you'll see the display change to this: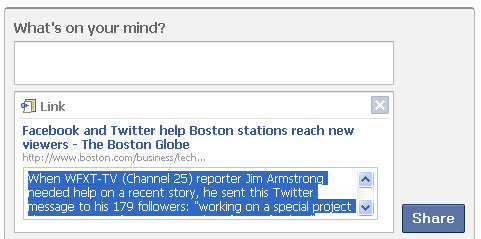 For example, if you're posting the link to the recent Today Show video about the importance of libraries on your profile or page, the link come up as "Today Show Video Player." Not wrong, exactly, but not very helpful, and it could look like a link to download software rather than the link to the video itself. I changed ours to display the video title as the link:

This is poor interface design, in my opinion — if text is editable, it should look editable or have an edit link. I posted a lot of links wishing I could edit them before I accidentally clicked on one and discovered this!
The other thing that's worth checking is the images that can display with your link. You can only have one image, and Facebook creates a little slideshow that lets you choose one. Some of these images are on the same page, but are not related to the article you're posting.
For example, in this one, several of the eight possible images, including the default, have nothing to do with this article. It's worth clicking through the series to select the best one. If none are relevant or interesting, you can check No Thumbnail.