Many libraries use Flickr to find photographs to add color and visual interest to their blogs and websites. It's an incredible resource, but one that you have to use with care. You need to check images to make sure any image you want to use has a Creative Commons license, figure out the correct code to link to the photograph on Flickr, and provide credit to the photographer.
ImageCodr is a tool that makes it easy to check the license and get the correct code to link to any size of an image on Flickr, complete with a Creative Commons license and credit link. You just paste in the URL for any Flickr photopage, and get the license information, and an option to preview any available size and generate the code you need for your page. Here's a sample of what that page looks like:
ImageCodr Sample.
The image below was added to this blog post using ImageCodr. The image will inherit borders, fonts, etc., from your site's stylesheet, and will probably look just fine as-is. However, if there's something you don't like, you can adjust the stylesheet and add a class to the div that encloses the code.
The site does add a link to the ImageCodr site, at the end of the photographer's credit line. You can find it in the example below by hovering over the the space at the end of my name. This is either a subtle or awkward way to provide a linkback to the ImageCodr site.
ImageCodr — This is the main page
ImageCodr: Get Code Page — This link goes directly to the page where you can paste in a Flickr photopage URL
ImageCodr: Search — The search page makes it easy to search Flickr for images with a Creative Commons license
If you were designing a postage stamp for your library, what would it look like? What about historic buildings and other notable places within your community, wouldn't it be fun to see them featured on postage stamps?
The United States Postal Service does allow you to put your photographs on real postage stamps through their Picture It Postage plan.
But it's more fun and a lot cheaper just to play around with the idea of designing your own local postage stamps. There's a free online tool called Framer that makes it easy to create stamp images from your photographs, complete with postmark. It can connect to your Flickr or Facebook account to get your pictures, or you can upload them from your computer.
This might be a fun photo-craft project for children or teens (anyone, really!) These faux stamps could be used as graphics for your library blog or website, or printed out and used as part of a display — could work with a travel display, or one on stamp collecting or perhaps on the lost art of letter-writing.
Historic images, like this one from the New York Public Library's collection on Flickr, also work well for this. Be sure to change the date for the postmark for these!
Have fun! Framer has many other styles and options, and it's part of a great collection called fd's Flickr Toys.
The NCES Kids' Zone website has a simple but powerful tool called Create A Graph that makes it easy to create makes several different kinds of graphs and charts, with lots of options for effects, colors and file formats including PDF, JPG, SVG and more. There are several samples here to play around with so that you can see how different the same data looks presented in different formats. You enter your data in a simple web form, choose a design, preview, save and download. You don't need to register to use the site, and if you bookmark or e-mail yourself a link to your graph, you can come back and edit it any time within the next 30 days.
As part of Kids' Zone, this tool is aimed at students, but it's a handy tool for anyone who needs to make a chart or graph with a small set of data. (If only it could import delimited data from Excel and other sources!)
Create A Graph Screenshot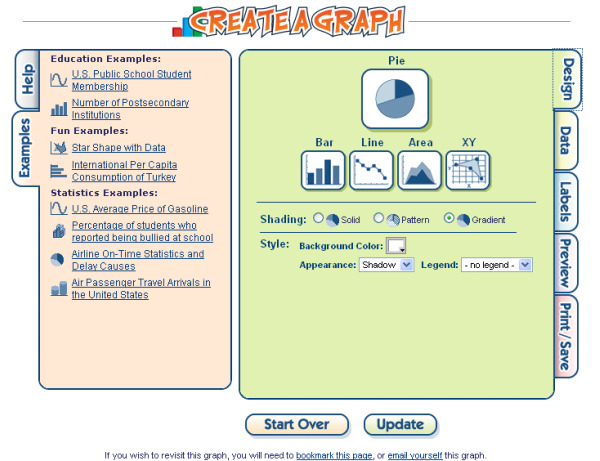 Sample Pie Chart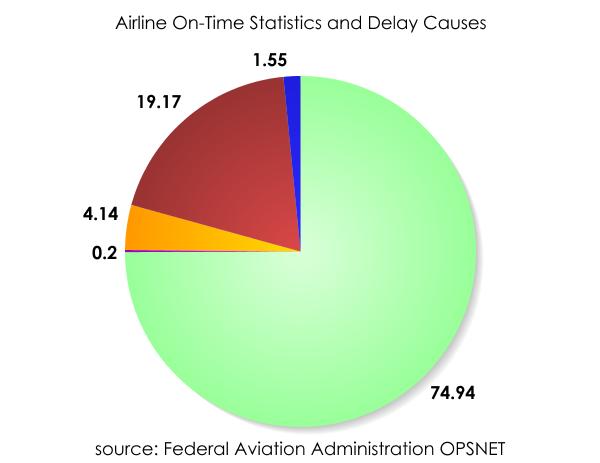 Sample Graph