Category Archives:
Tagging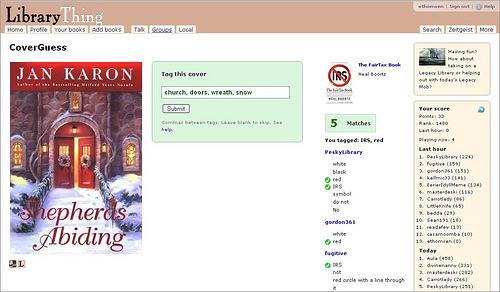 Earlier this month, Tim Spalding introduced a new group-tagging game called CoverGuess on LibraryThing. I would have blogged about it earlier, but I have been too busy spending all my spare time playing.
It's pretty simple: "CoverGuess is a sort of game. We give you covers, and you describe them in words. If you guess the same things as other players, you get points."
You see a cover image and enter a bunch of tags — it's hard to explain why that's fun. Maybe it's the immediate feedback. For the cover of the book above, I entered: church, doors, wreath, snow. I got points for those, but when I saw what other people entered, I realized that I missed a lot. I didn't notice those stained glass windows, and didn't think to add the obvious Christmas. The more you play, the more details you notice, and the more points you get.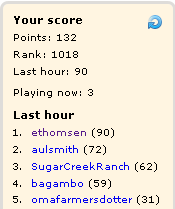 And although the points don't actually mean anything, it's fun to watch your name climb up the scoreboard. Not that I am the sort of person who cares about that sort of thing. But just for the record, right this minute I am number one for the hour, but not even in the top 200 for the day, and I rank number 1018 overall. This should give you some idea of how many people are actually playing around with this!
But it's not just a game — it's a fun way of using crowdsourcing to build a database of tagged cover images. Imagine how helpful this will be when someone can't remember a title but knows there was a picture of a little girl or a Dalmatian wearing a top hat on the cover! LibraryThing is releasing the data under a Creative-Commons Attribution-Noncommercial License, and any non-profit entity, like a library, can use it without charge. We're starting work on our new library catalog, and now I am really hopeful we'll be able to add cover image searching!
Links
For my What's New with What's New presentation for the Boston Regional Library System:
Book Information
Amazon: The Spirit Catches You and You Fall Down — The Amazon page for this book is an example of some of the ways that Amazon is playing around with text analysis
LibraryThing — This social cataloging site is doing some very interesting work analyzing and comparing its members' collection data, and collecting and organizing data through their Common Knowledge fielded wiki [Example: John Steinbeck]
Tagging
Tagging is the primary method of organization for many social media sites, including Flickr, LibraryThing, Delicious, and many others. Tags are keywords users assign to their own items, which can also be used to search across the whole system. Because of the lack of a controlled vocabulary or standard cataloging rules, tagging is an imperfect system by design, but the use of natural vocabulary is quick, flexible and powerful.
Collections of tags can be presented in any format, but are often presented as tag clouds. Here are a couple of typical examples:
Flickr | LibraryThing | Delicious
Similar clouds can be made by analyzing the frequency of words used in any piece of text, like the example below.
This is a tag cloud made by uploading the text of the Declaration of Independence to the TagCrowd website