Category Archives:
OverDrive
NOBLE subscribes to the NextReads newsletter service, and users can subscribe to receive booklists on a variety of topics by e-mail or read them through our NextReads archive. You can also post these on your library Facebook page, which will put them in the newsfeed for people who like your page, where people can take a look at ones they are interested in without the commitment of a subscription.
To link to these, go to the current issue of the newsletter from the archive, copy the URL, and paste it into the post box on your library page.
Your new post will look like this: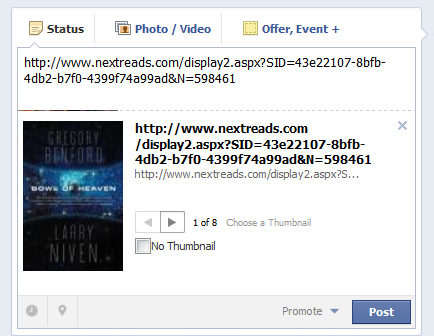 That doesn't look very good, but we can improve it by removing the URL, replacing the URL that displays as the title with the actual title of the newsletter, and adding a description. We could also add a message, but I think the title and description are enough for this one, so I'm not going to.
(For more information on editing Facebook links, see Adding a Link to Your Facebook Page)
Now our post looks like this: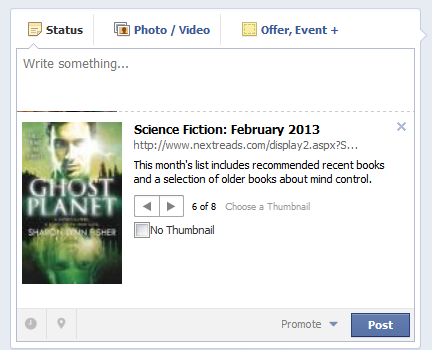 Click Post to make this public.
Here's our finished post: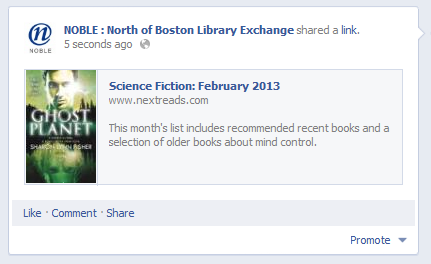 Notes:
It's very easy to post a link to an OverDrive book to your library's Facebook page. This is an especially good thing to do with the Always Available titles that never have holds!
Just go to the title in our OverDrive collection, and click on the Facebook share link: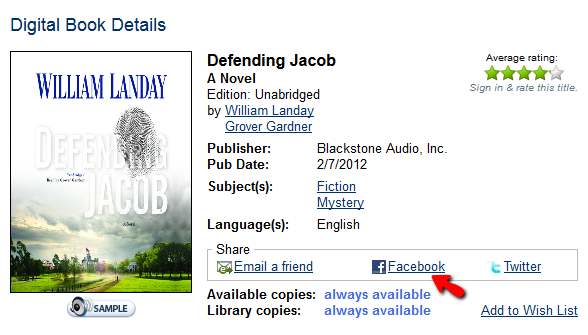 This will set up a post for you. Next to the word Share and the little flag, there's a dropdown that lets you decide whether to post to your personal timeline or your library page or any other pages that you maintain using your personal account. Set this to post to you library page. Then add a message if you like. You could also edit the title or description if you needed to, but with OverDrive titles you generally don't.
(This is confusing because at one time these Share buttons on other sites could only be used to post to a personal profile, and not a Facebook page.)
Click Post.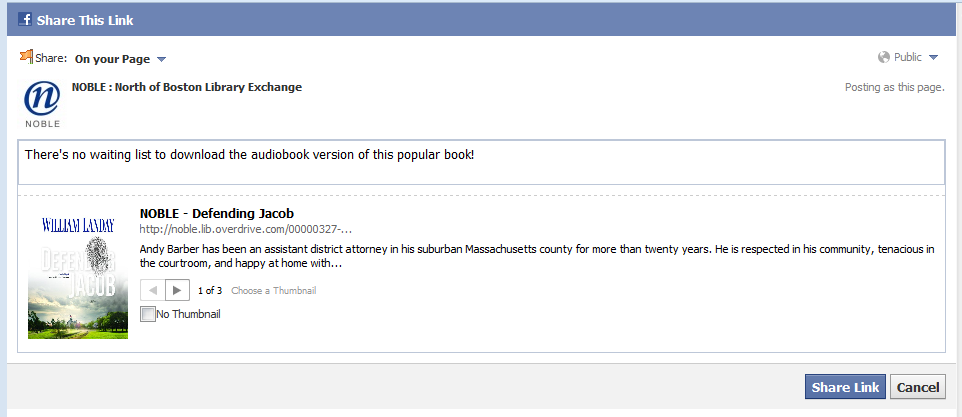 Here's what the finished post will look like on your Facebook page: