Home » Local History (Page 2)
Category Archives:
Local History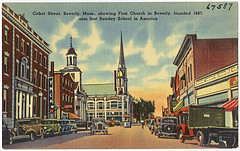 The Boston Public Library is sharing several collections of artistic and historic images to Flickr, including local brewery posters, rare books, manuscripts, postcards, photographs and much more.
Two collections are of particular interest for local interest to NOBLE libraries. The Tichnor Brothers postcards of New England includes over 1,800 Massachusetts images, including many from our area. These postcards are a good source of images of parks, bridges, statues, libraries, churches and other local landmarks.
The Leon Abdalian collection includes historic sites photographed in 1930 during the Massachusetts Tercentenary celebration, when the Boston Daily Record hired Abdalian as the "Photographer of Historic Shrines," and it includes some sites in our area, like the Balch House in Beverly.