Category Archives:
Images
If your library posts photographs on Flickr, you may find it easier to copy and paste code from Flickr to embed some of your images in your WordPress posts rather than uploading the files into WordPress. When you embed files, they are not hosted on the server where your WordPress lives, but are served up from the Flickr site — when people look at your post, their browser requests most of the content from your WordPress host sends to the Flickr site for the image file. If someone clicks on your embedded image, they will go to the photo's page on Flickr, as required by the Flickr Terms of Service. The two photographs on this page have been embedded from Flickr.
(more…)
It's easy to create a basic image gallery like the one on this page. It's an easy way to showcase a group of photographs of a library event, a collection of historical images, or other set of images.
(more…)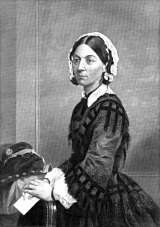 Portrait Gallery a service of the Perry-Castañeda Library, University of Texas at Austin, is a collection of pictures of historical figures scanned from books in the public domain. It's been around for over a decade, and it continues to be a good place to go when you need a picture of Florence Nightingale or Charles Dickens or Joan of Arc, whether you are helping a library user find an image for a project, or looking for something to add to a page on your website.
These are images scanned from books in the public domain, so the images here are all pretty old, and the quality varies depending on the original book source. You won't find a picture of Martin Luther King, Jr. or Albert Einstein here, and the picture of Winston Churchill shows him as a young man — it's World War I Churchill, not World War II Churchill. But for pre-20th century artists, authors, composers, explorers, scientists and statesman, it definitely a useful source.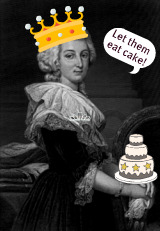 And because these images are all public domain, you can do whatever you want with them — print them out and use them on posters or for craft projects, resize or crop them, colorize them, add text them, or combine them into an artful collage.
They are also fun to play around with using various online editing sites. Go to Big Huge Labs to make a Pop Art Poster or a set of trading cards or a magazine cover. Or go to Picnik where you can add all sorts of special effects, as I did to Marie Antoinette.
The design of this site is simple, elegant and easy to use. The collection is small but useful, and it's definitely a site worth bookmarking and sharing.
Update: Edited to remove link to Picnik, no longer available. If you miss Picnik, I recommend PicMonkey. 10/4/2014