Category Archives:
Facebook

Here's a simple tip for managing images on your library's Facebook page. The most recent five images added to your Facebook account display in a row at the top of the page. It's always the most recent five photos but they display in random order — try reloading your page to see. I mention this because I think it's confusing, and I'm not sure what the point is of randomizing the order of these.
If you frequently add photographs to your Facebook page, this row of recent photos can help your page look current, but there are times when the most recent photos don't work so well. If you've uploaded more than five photographs of a recent event, for example, these will push other recent images out of the display. Or you may have some recent images like screenshots or logos that don't really belong in that display.
It's easy to hide images from the display. Just hover over the image and you'll see a small x in the upper right. Click on this to hide the image from the display. This only hides it from this row of photos, and the image will still be visible in the album and other photo displays.
Facebook's status tagging feature is a way to include links from one Facebook page to another.
Here's a status that has a tag in it:
The words Massachusetts Library Snapshot Day are blue, and are a link to that project's Facebook page.
It's easy to add these links, once you know the trick, which is to start by clicking on the option to use Facebook as your page, which is with the other admin options in the right sidebar on your Page. You also need to make sure the page you want to link to is one of your page's "favorite pages." You'll find the option to "Add to My Page's Favorites" in the lower left sidebar of every page.
In this example, I am writing a status on the NOBLE Facebook page, and I want to refer to Massachusetts Library Snapshot Day Facebook page.
I start my post, but instead of just writing "Massachusetts Library Snapshot Day" I enter the @ sign and start typing Mass… etc. I get a dropdown menu of of my page's favorite pages:
I click on Massachusetts Library Snapshot Day, and continue writing my status. The page name appears with a light blue background:
I click Share, and I'm done.
Two things happen when you use these tags: The name of the Facebook page displays in blue and is a link to that page, and my status also appears on the other page, in the case the Massachusetts Library Snapshot Day. Used appropriately, these tags can build helpful connections between pages. For example, if an author is coming to your library, you might post a status about the event linking to the author Facebook page. The tag will help your users find out more about the author, and the author's fans will see that he or she is coming to your library.
When you post a link on Facebook, whether it's on your own profile or on your library's page, Facebook takes the title and a snippet of text to display, which looks like this: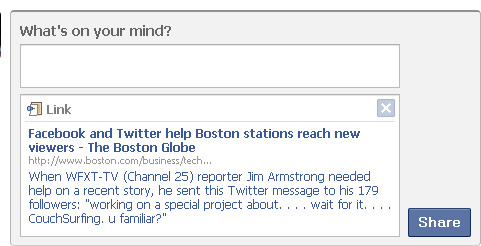 (more…)